Education:
| | | |
| --- | --- | --- |
| PhD | Environmental Health Sciences; The University of Michigan | 1981 |
| MPH | Public Health; The University of Michigan | 1972 |
| MS | Microbiology; The University of Florida | 1971 |
| BA | Chemistry; Stetson University | 1969 |
Current Research Interests:
In 2003, Dr. Larry W. Robertson was appointed Professor of Toxicology at The University of Iowa College of Public Health. He is also the Pilot Grant Program Director in the University's Environmental Health Sciences Research Center.
Previously, Dr. Robertson was the Program Director for The University of Kentucky Superfund Basic Research Program. He hosted the First PCB Workshop, held in Lexington, Kentucky, April 9-12, 2000, and helped organize (and obtained funding for) the Second PCB Workshop, held in Brno, Czech Republic, May 7-11, 2002. The Third PCB Workshop was held June 13-15, 2004 in Champaign/Urbana, IL. He is currently the Principal Investigator of the iowa superfund basic research program (isbrp).
Dr. Robertson's primary area of research is the mechanism(s) of toxicity of polyhalogenated aromatic hydrocarbons. Members of this class include the polychlorinated biphenyls (PCBs), dibenzodioxins, dibenzofurans and various pesticides. Dr. Robertson's research on these important environmental pollutants include studies of their effects on gene regulation, their metabolism to electrophilic species and their binding to nucleophiles, including amino acids, nucleotides and DNA.
Recent research has demonstrated that, during the metabolism of halogenated compounds, oxidative events occur which lead to increased oxidative DNA damage. This work is (has been) supported by grants (with Dr. Robertson as PI) from DOD, NIOSH, NATO, EPA and NIH. These research projects are (have been) carried out by doctoral students (eg. Parvaneh Espandiari, Mitch McLean, Greg Oakley, Tim Twaroski, Anandi Srinivasan and Nilufer Tampal) and postdoctoral fellows (eg. Drs. Anthony Amaro and Udo Bauer) in training in Dr. Robertson's laboratory. This research activity has resulted in the training of over 25 pre- and post-doctoral students and these efforts have been reported at numerous scientific meetings and in over 150 research publications.
Visit the Research Lab
pictures and project descriptions coming soon!
Meet my Fellow Researchers
Gabriele Ludewig
Hans-Joachim Lehmler
Harald Esch
Regine Garcia
Jim Jacobus
Yang-Won Suh
Ling Xu
Punit Vyas
Sandhya Vyas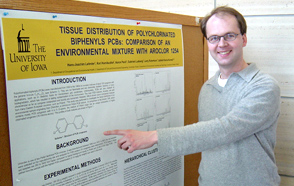 Dr. Hans Lehmler presents a poster at Research Week.